Does your TEAM or BUSINESS want to DELIVER PROJECTS ON TIME? SCRUM is a SIMPLE METHOD for managing even the most COMPLEX PROJECTS.

Confessions of a Scrum Master – Book Launch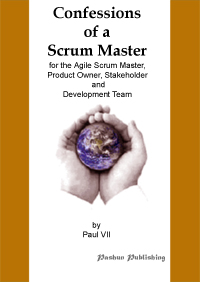 for a Limited Time. BUY from US and Worldwide: CLICK TO BUY
BUY from UK and Europe: CLICK TO BUY
This is a Kindle Ebook but you don't need a kindle to read it. See here: http://amzn.to/p18v57
I just wanted to quickly let you know because it is so insanely cheap FOR A LIMITED TIME ONLY.
Please spread the word and forward this email. This book consists of 7 short stories. Each chapter is followed by my confessions, detailing what I could have done to improve my challenging situation. It serves as an overview of real world scenarios. The book contains all the chapters below:
Introduction
Scrum Recap
I set the foundation for the stories that will follow with a brief recap of Scrum.
The Characters
An introduction to the development team and product owners I worked with in one of my most challenging times.
1st Confession. Tools vs People
I confess how I dealt with balancing the views of the team with the benefit of the tools.
2nd Confession. Release Planning Peril
Learn how a new team reacts to release planning meetings when they do not see the value of scrum, and how I dealt with the situation.
3rd Confession. Intro to Scrum Gone Bad
Read the story of how an apprehensive team reacts to their first introduction to scrum.
4th Confession. Stand-up vs Sprint Review
The story of a team who had a conflict of interests between the two meetings and how I dealt with this conflict.
5th Confession. Taking the Team to Task
What happens when the team think planning their tasks is a waste of time.
6th Confession. Retrospective Regret
Learn about what went wrong in one of my least productive retrospectives and what I learned that I could improve
7th Confession. The Bloated Bug Backlog
Read about what happens when the team have more bugs than they could handle.
BUY from US and Worldwide: CLICK TO BUY
BUY from UK and Europe: CLICK TO BUY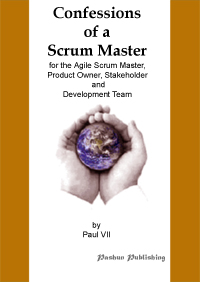 BUY from US and Worldwide: CLICK TO BUY
BUY from UK and Europe: CLICK TO BUY
Please let anyone who is interested in Improving their scrum practices know.
==
Regards,
Paul VII
Pashun Consulting Ltd.